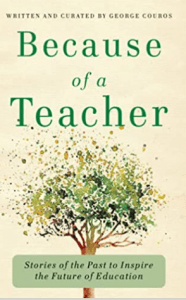 This past September, I had the opportunity to read the book Because of a Teacher through a Facebook group I joined in the Fall. The group was geared toward Health Habits and Mindfulness for educators. I needed to make some changes for the better. Distance and Hyflex learning kept students challenged and growing; it took a toll on teachers and their work-life balance.
Teachers who never had a chance to sit down in the regular classroom found themselves sitting at a computer in the remote classroom. Weekends found teachers sitting at the computer uploading schedules, links, and work. The truth is that since March 2020, I got into the habit of spending my Sundays at the dining room table, working on my weekly schedule, and uploading it to my class blog.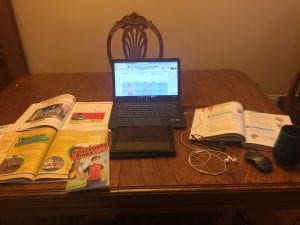 George and Paige Couros ran the six-week program on Facebook. The book Because of a Teacher guided our weeks in the group. It is full of heartfelt stories about the impact teachers make in the lives of their students. The stories remind teachers how valued they are and the importance of their work with children.
The first week Paige asked us to share what we were looking forward to that week. I shared that I was looking forward to an upcoming event at work. Teaching is my passion; my work-life balance starts to blur. I knew I needed to plan fun activities to look forward to throughout the week. I started taking fall hikes in Gatineau Park, went apple picking, and enjoyed lunch on outdoor patios with my family. Lucky for me my older children were happy to spend time with me on the weekends.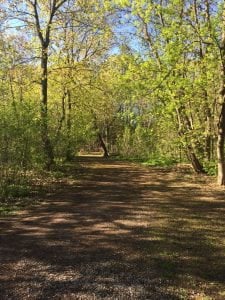 Each week we read a few chapters of the book Because of a teacher and reflected on questions that related to our personal and professional lives. Reading these stories made me grateful that I chose to teach as my profession. It was the perfect book to read.
George Couros started a Mindset Monday podcast to get us to reflect and start our week on the right foot. I listened to the Mindset Mondays podcast while I drank my coffee in the morning. Each podcast had me reflecting on life in education, and I loved it.
Developing healthy habits was a primary focus of the Facebook group, yet I couldn't seem to start an exercise routine. George shared his healthy habits. It was then that I thought maybe I could do it too. I decided to exercise in the morning. A colleague at school told me that she would text me in the mornings to help keep me accountable. It was just what I needed. The neat thing is, Lianna Krantzberg is a former grade two student who is now my colleague at school. Each morning we would text each other and cheer each other on to the workout. It felt great to exercise before school and accomplish something before getting to school. Healthy habits started to take form, and work-life balance equalized.
Teacher parent conferences led to my own memorable Because of a Teacher moments. My teaching team met with each set of parents and had meaningful conversations about our students. The parents were appreciative and shared how much their children loved coming to school. As a teacher, I can tell you how much this means to us. Our compelling why for teaching is always for the children. Moments like this fill hearts and keep teachers teaching.
I have to say that since the beginning of the pandemic, parent-teacher conferences have become so special. I seem to have had the nicest parents in my classes. Perhaps both parents and teachers have been more authentic with each other? Parents have been so appreciative and have shared how much their children love school. We have even heard that some students wished they could come to school on weekends.
A quote from a parent
" One of the silver linings of the COVID experience is that through distance learning, you each entered your students' homes and brought the school community closer to become an even tighter knit family. That was no small feat, and it was with your dedication and care for your students such a warm, supportive online experience was created. Thanks again!"
Notes and pictures from students make us smile too!
My school, the OJCS, is full of incredible teachers. We have been through so much in the past two years. We have encouraged, supported, and laughed with each other. I know there are Because of a Teacher moments happening all the time. I think our school and schools everywhere should celebrate their own # Because of a Teacher moments. It would be the perfect follow up to Teacher Appreciation week.
Because of a Teacher is filled with so many beautiful stories. Reading this book made me appreciate being a teacher and filled my bucket.  I looked back on my own # Because of a Teacher moments in my career. This book led me to the Facebook group, which led me to develop healthier habits. Most importantly, this book reminded me that I impact the lives of my students.
I encourage teachers everywhere to read Because of a Teacher.